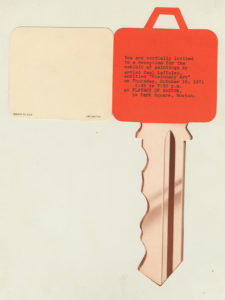 1971. By far, the most outrageous thing my manager (James P. Miner) ever did for me was what also ended our relationship. He convinced the manager of Playboy of Boston to spend nearly $60,000. on my show and a gala opening. At that time in Boston, the image of the Playboy Club was not very au courant. It was thought that by showing my work a new image would be secured. For the opening the bunnies were taught to give lectures on my paintings, and an open bar was planned. On the night of the opening it was a media blitz. So my manager and his friends had inveigled nearly 4000 people to show up. Even my favorite celebrity of the time, Jean Shepard was there. My family physician who had always taken a condescending attitude toward my artwork, when he approached the entrance of the Club and saw what was happening, simply turned tail and ran away. The event was staged on a Saturday night to insure adequate TV and newspaper coverage. But the next day there was not a word. A few days later I heard through "the grapevine" that one of the bunnies sometime during the opening had used the Hugh Hefner hot line to blow the whistle. It seems Hefner had any mention of the event suppressed. The manager of the club was fired, my manager and his cronies were run out of town. The club was closed, and two weeks later the building burned down.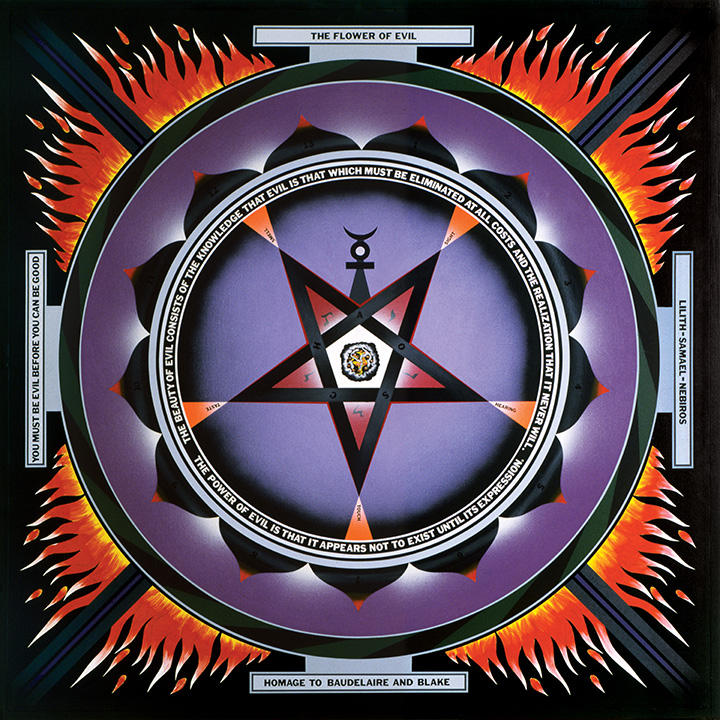 THE FLOWER OF EVIL, 1971
Oil, acrylic, and vinyl lettering on canvas
49 1/2 x 49 1/2 in.
That which has no History can join that which has only History by means of Lucid Dreaming, which is the bedrock of Consciousness itself and allows us to exist in the midst of evil without the experience of it.
EXHIBITIONS
Paul Laffoley, Playboy Club, Boston, checklist # 3., 1971
Paul Laffoley: The Sixties, Kent Gallery, New York, 2009
Paul Laffoley; Premonitions of the Bauharoque, Henry Art Gallery, Seattle, Washington, 2013
Adelaide International, Australia, curated by Richard Grayson, 2014.
LITERATURE
Croquer, Luis, and Paul Laffoley. Paul Laffoley: Premonitions of the Bauharoque. Seattle, Washington: Henry Art Gallery, 2013, p. 16-17, ill. p. 16 (color).
Frelik, Pawel. "Paul Laffoley: Architekt form myślowych." Trans-wizje no.1 (Fall 2011): 23, ill. (color).
Grayson, Richard. Worlds in Collision. Adelaide: Samstag Museum of Art, 2013, ill. p. 71 (color).
Walla, Douglas, Linda Dalywimple Henderson, Steve Moscowitz, and Ariel Saiber. The Essential Paul Laffoley. Chicago: University of Chicago Press, 2015. Pp. 118, 119. Illus in color p. 119
---

Homage to Frederick Kiesler 1968
Oil, acrylic, ink, and hand applied vinyl letters on canvas.
37 1/2 × 37 1/2 in./ 95.3 × 95.3 cm.
One week after I was kicked out of Harvard Graduate School of Design – I was prepared to be dazzled by a new revelation, and I was not disappointed. (When visiting his Uncle who was disgusted by the work of Philip Johnson) my uncle flung a recent copy of Progressive Architecture at me. Astonished at his uncharacteristic violence, I knew I had hit "pay dirt" at last. Picking up the disheveled magazine that looked as though it had been thumbed through hundreds of times, I looked at the cover and browsed the article. It was about an architect/artist named Frederick Kiesler. Stunned by what I saw, I felt I was in the presence of something authentically new and started wondering why I did not know about him before this.. . . As I made my way to the door of my uncle's office, he said "if you really want advice about your future, never have anything to do with Frederick Kiesler!" The next day I was hot on his trail. I instinctively knew I would have to write many letters. I just never realized how many. After the 16th letter, my father suggested that my letters were being used to light cigarettes. That piece of cynicism almost caused me to throw in the towel, but I tried one more time expecting nothing this time. But I was gloriously wrong. His letter was brief and to the point. I was to meet him at his apartment at 2:30 in the afternoon on April 27. That was a Friday, and I had received his letter on Wednesday the 25th. So I packed two suitcases, one for clothes, and the other for a series of drawings I was doing under the direction of Mirko Basaldella who was then sculptor-in-residence at the Carpenter Center at Harvard, plus my model of the factory I had just designed with the base cut down so it would fit inside the suitcase.
Excerpt from Laffoley original journal 2000
I have always thought of Kiesler as the prototype of the Bauharoque man, surviving by always throwing hooks and lines into the future. During the year I spent in his public sculpture studio in Union Square, I worked on many of his important pieces in terms of final presentation for exhibitions. One day he called me "a dreamer." To this day, I have not been able to decide whether I had received a compliment or an insult.
---

Temporality/Spatiality, 1963
Oil, Acrylic, Hand Applied Vinyl Lettering on Canvas
37 1/2 x78 5/8 in.
Disco Volante by Paul Laffoley
1946: Arizona – Taliesin Winter Camp, January 5 Oligvanna, third wife of Frank Lloyd Wright, invites the renowned hermetist G.I. Gurdjieff (1873- 1949). He provides information about the "new" flying saucer sightings, and his theories about "dream architecture"
1947: Mount Rainer, Washington, June 24 A private pilot, Kenneth Arnold, spots 9 UFOs Arizona, August 3 Wright designs the Sports Club for Huntington Hartford (unbuilt) based the flying saucer form. Belmont, Massachusetts, September 13 The man who trimmed our bushes (a recent emigrant from Belmonte, Naples) tells me of how he and his son were abducted 17 times into a "Disco Volante" (Italian for flying saucer). He was shown other planet, glowing people and new inventions.
1949: Hollywood –20th Century Fox, February 3 Film director Robert Wise contacts Wright to work on the set design of a new movie he is planning that has a UFO theme. Wright agrees and designs the classic flying saucer profile: The soliton wave or curve of normal distribution. The image of the interior of the ship was "lifted" right out of the Johnson Wax Company Administrative Headquarters he was working on since 1936. Wright claims: "The horizontal translucent plastic tubing motif works well with the 'bauhaus-like' control instruments, and the metal sheathing of Gort (the robot) and the spaceship will imitate living tissue. If cut, the rift will heal like a wound that leaves no scar"
1950: Washington D.C., April 10 The Filming of The Day the Earth Stood Still begins. Wise casts Michael Rennie (a British repertory actor) as the alien Klaatu. He bases the character on a combination of Mikola Tesla (1859-1943) and Leon Theremin (1896-1993) because they are aristocratic in bearing, preternaturally young, and both have developed electronic devices that are useful to the script "The Death Ray", the first electronic musical instrument, an electromagnetic bridge, robotics, artificial intelligence, and a machine to revive the dead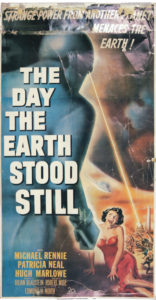 1951: Boston Massachusetts, September 10 (Robert Wise's Birthday). The Filmis released across America. I see it for the first time at The RKO Keith Memorial Theater. Instantly it is my favorite. I want to become an architect so that I can design flying saucers.
1955: Belmont, Massachusetts, August 14 The man fromBalmonte (I never learned his name) said he was leaving for good. He gave me a gift- a medallion. He called it the symbol of The Order of Melchizedek which was given to himby "the People", indicating those worthy to aid in "The Cosmic Task". He was told to pass it on to someone else "when his time came".
1956: Wauwatosa, Wisconsin, June 4 "The Annunciation Greek Orthodox Church", designed by Wright and built as a flying saucer motif. Cambridge, Massachusetts, M.I.T.'s new Kresge Auditorium I see the movie again, now thinking it is some kind of "foreign" film(I overhear a remark to that effect by someone in the audience). But I actually believe it to be a kind of "architectural future vision" like "Metropolis" (1926) or The Shape of Things to Come" (1936)
1957: Cambridge Massachusetts, Brattle Square Theater, March 3 As a science fiction film, I come to believe the movie transcends "science-fiction" (which is simply an escape into the past & the future). Being filmed at the height of "the cold war", I finally came to appreciate its terrifying immediacy, which is the intent of Wise's message: "to avoid Atomic War at all costs". It now seems to me to be a "horror movie" filmed in "documentary" style.
1961: Cambridge Massachusetts, H.G.S.D., October 2 At architectural school I learn froma classmate that Frank Lloyd Wright "had something to do with the movie". I begin my own research about this. Also I have my first spontaneous lucid dream(in which I amaware that I amdreaming while dreaming)
1963: New YorkCity, FrederickKiesler's studio, April 13 I point out that the dome of The Shrine of the Book, a Sanctuary for the Dead Sea Scrolls, that Kiesler and Armand Bartos were working on, looks like Klaatu's spaceship. Kiesler reluctantly admits this. He then begins a tirade about his contribution to the image of the modern robot.
1965: Paris, France, Boulevard Saint Germain, June 2 It is my first evening in Paris. Sitting alone at a sidewalk table at the café "Les Deux Magots", I order a "Coke". Also, I decide to wear my "medallion" on the outside of my turtleneck "just to look cool". Suddenly, a young man sits down at my table. He is dressed like an "Apache" dancer. Introducing himself as Claude Vorilhon, a reporter with Paris-Match, he reaches into his side bag. Thinking he is about to pull out a pen to begin "my interview", I relax. Instead he brandishes a small knife, cuts the pendant string that is around my neck, grabs the "medallion" and runs into the night.
---

The Essential Paul Laffoley: Works from the Boston Visionary Cell
336 pages | 118 color plates, 15 halftones | 11 x 11 | © 2016